BellyFest 2012: Celebrating the ancient art of the belly dance
Text and Photos by Ime Morales October 14, 2012 1:56pm
46  17  1  118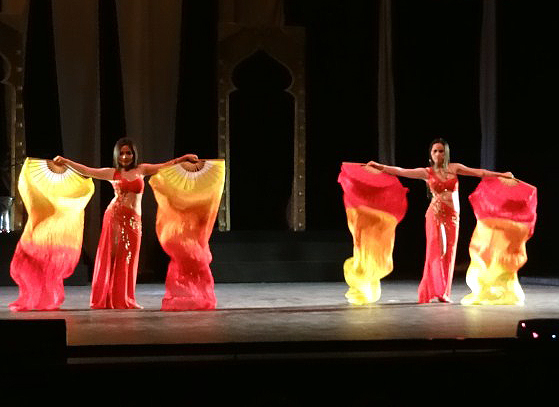 Desert Sirens at BellyFest.
The origins of the belly dance have always been shrouded in mystery. With its sinuous hip and abdominal movements, some scholars believe that it was associated with the old practice of offering the sacrifice of a girl's service and virginity to a fertility goddess.
Having crossed oceans and borders from ancient Greece and Egypt, the Middle East and Turkey to the rest of the world, the belly dance evolved into something of an erotic folk dance. It became enmeshed with Greek mystery rites and comedy dances, was associated with the Gypsies coming out of India through Persia, and travelled to Spain to influence flamenco.
In the Philippines, one of the leading proponents of the dance is Jill Ngo-Crisologo, of Bodytalk and Whiplash fame. Her dance studios, Peak Performance Dance and Fitness Studio in Quezon City and Binondo, teach Zumba, hip-hop, Pilates, and belly dancing.
Belly dancing is all about rhythm. "I learned how to really listen to music, not just to the melody," Jill said. "I bought a drum and learned how to play." A good belly dancer also needs a good ear, obviously.
Six years ago, Jill saw the need to establish a community for belly dancers and all those who appreciate the art. That was the beginning of the annual BellyFest, of which she is the creative director, choreographer, and organizer.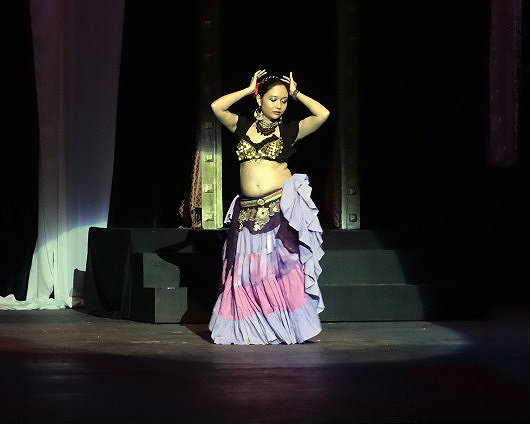 Writer Inez Ponce de Leon perform a tribal-style belly dance.
At one point, Jill became so busy with her other commitments that she considered cancelling the festival. However, "One girl told me she promised her mother-in-law that she would join the next BellyFest," Jill said. "Her husband just died and it was a promise she made to his mother."
It was a pivotal moment for Jill. She saw, for the first time, that even if it was "just a project" for her, to others it meant a lot more.
The 6th Philippine BellyFest
This year's Belly Dance Festival was held on September 22 at the AFP Theater in Camp Aguinaldo. A special guest was the award-winning Korean belly dancer, Jinhee Kim.
Jill has been bringing internationally renowned belly dancers to Manila for the event for three years. "I invite foreign guests because we all get inspired to see a world-class performer," she said.
On the day itself, Jinhee, 26, gave a workshop for the audience and performed several numbers during the evening show.
The theater lobby was transformed into an Arabian market and workshop venue to accommodate the daytime program. There were dance numbers, pocket workshops, parades, and a raffle draw.
But the evening show was the event's highlight. Clad in shiny, Middle Eastern-inspired outfits, the women danced against a backdrop of magnificent colors and light play, shimmying their bodies to the music.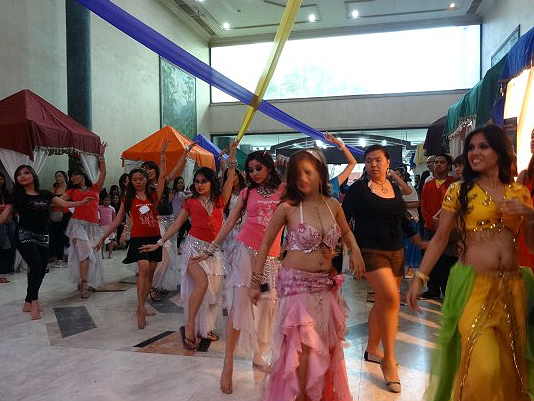 The audience and performers participated in the daytime workshops.
And the performers that night—recitalists from Jill's classes and from other studios, solo performers, children, dance pupils of jazz, hip-hop, and striptease—all contributed to a riveting show. Jill's own belly dancing group, the Goddesses of Bellydance, performed synchronized, sensual, striking numbers.
The audience sat in awe, myself included, enthralled by these smiling women dancing in earthy and erotic ways. Their multi-hued scarves and veils mesmerized. Their golden belts rattled with every quiver of their hips. And their hair flowed in undulating waves, just like their bellies. — BM, GMA News